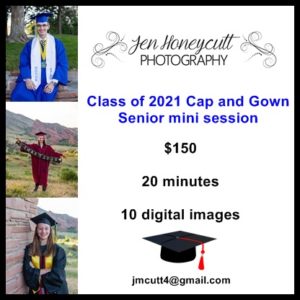 I was excited to offer these cap and gown mini sessions to graduating high school seniors again.  Last year with the pandemic, so many seniors didn't even get a graduation ceremony until the end of the summer.  So it was great that most schools around the country held in-person graduation ceremonies this year.
Abby's mom, Janet, heard about me through Robyn and knew that I had offered these mini sessions last spring.  It was so great to meet Abby and her mom last week for this fun mini session.  We met at Mt. Falcon east park and captured Red Rocks in the background since that is where Abby would be graduating from Chatfield Senior High the following day.
Let me know if you or your graduating senior would be interested in one of these cap and gown mini sessions!