Mary contacted me a few weeks ago inquiring about an elopement photography session at Roxborough State Park.  She and her fiance, Noah, decided to elope due to COVID-19 and having all of their immediate family out of state.
Despite dodging a large bull snake on the trail (Mary was so chill about it, while Noah and I were utterly freaked out), we had a great session.  I loved meeting these two and wish them all the best!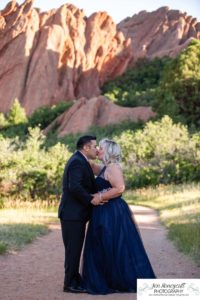 Mary saw this guy and said, "Um…..snake."  Noah and I jumped so high and couldn't get away fast enough.  I took this picture with my zoom lens!   Ha!