I always enjoy seeing PJ, Tiffany, Amelia, and Jayla!  The girls are just the sweetest!  Jayla recently turned one so it was a great time for updated family photos and to commemorate her big milestone!
We met at Standley Lake in Westminster on a chilly Sunday afternoon.  The clouds and wind came up toward the end, but the girls did great despite the cold wind.
Here are some of my favorite images we captured a few weeks ago.  Don't you just love their family boots too?!?!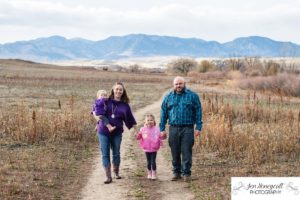 Big sister Amelia wore that same adorable monkey hat when she was Jayla's age: